It might seem strange to some people that the American horror writer H.P Lovecraft has made such an impact on the Scandinavian people. Perhaps the reason to this affinity can be found in our rich folklore that's always been heavy on madness and monstrosities, or maybe it has to do with the nigh on everlasting darkness that seems to cover this land beyond the wall of pine trees.  But whatever the reason may be, the love for the author seems to be almost ever present in our lives and culture. Swedish horror authors have a tendency to be inspired by Lovecrafts works, and many of our universities have courses dedicated to him and other horror authors. One of the latest additions to this blatant and public love for the writer is the annual Stockholm H.P Lovecraft festival where people from all over Sweden, and to some extent even the world, gather to discuss and enjoy their favorite author. Whilst it would be easy to assume that the festival would focus heavily on Swedish or Scandinavian guests, one of the returning, and perhaps most esteemed, visitors has the American H.P Lovecraft Historical Society. The festival has had the honor to host the international world premiere for not one, but two of the HPLHS radio dramas. This year the audience was introduced to Imprisoned with the Pharaos , and now that enough time has passed that most people has had the change to listen to the album, we here at Frombeyond.se thought that it'd be a nice treat to delve a bit deeper into the madness of Lovecraftian horror. Together with Sean Branney, founder of the HPLHS, our reporter had a nice sit-down in a dimly lit crypt to discuss the radio drama, Sweden and the future of the Society.
— — —
First of all Sean, welcome to our lair here at Frombeyond.se. We last met you during the festival itself back in early October, and as I understood it that wasn't your first visit here. Tell us about your relation with the land of the midnight sun, and your feelings on having the world premiere here in Stockholm. Have you been here earlier? What do you think about the festival? And why do you think Sweden have such a love for Lovecrafts tales?
**This is my fourth visit to Sweden, so clearly you guys must be doing something right. The last time I was in Stockholm was ten years ago for the premiere of our show A Shoggoth on the Roof (En Shoggoth på taket). Scandinavians, and Swedes in particular, seem to be predisposed to like Lovecraft. HPL has a lot of fans here and so do we. We ship more orders to Sweden than even to the UK or Canada. We think it's fantastic that there's enough interest to support an HPL festival for four years in a row now. We're happy to help our Swedish friends in the celebration of all things Lovecraftian.
What about your own relationship with Lovecraft? I seem to remember that Andrew Leman told me in an earlier interview that you first got in contact with the authors work through Darrel Tutchton, who provides the artwork for your radiodramas? Tell us a bit about this.
**Way back when I was about 14 years old, my weirdest friend, Darrell Tutchton, said to me, "I just read this story, it's really weird, you have to read it!" I did, and I was hooked – it was HPL's The Rats in the Walls. That lead to enjoying all HPL's fiction, then playing the Call of Cthulhu role playing game, then inventing Cthulhu Lives, then producing our own plays, movies and audio projects – all inspired by the world of HPL. I think it's incredible that almost 35 years after Darrell showed me The Rats in the Walls, he and I are traveling to a Lovecraft celebration in Sweden. Life is weird.
Now, about the drama itself. Why Imprisoned with the Pharaohs? This one really took us by surprise after such classics like Shadow out of Time and The Call of Cthulhu. What inspired you to go with this, some would argue, lesser known tale? What was it that really made it "pop" for you?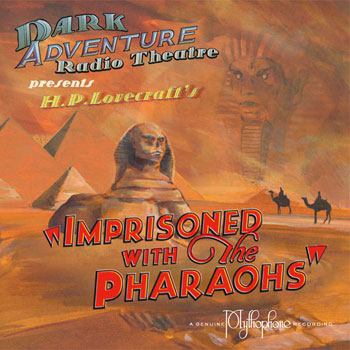 **I have to give credit to Stuart Gordon for the idea. Andrew and I had just wrapped up our Dark Adventure Radio Theater production of Herbert West: Reanimator. We were on a panel with Stuart Gordon at NecronomiCon in Providence last summer and the conversation turned to HPL stories that had not yet been made into films. Stuart said he thought  Under the Pyramids would be a great film. I scratched my head a bit when he suggested it, but figured I should go back and re-read it. The story itself needs some work, as most HPL stories do, in order to dramatize it, but the setting of pre-war Cairo and having Houdini as a protagonist showed a lot of possibilities. So, Andrew and I went through a few drafts and finally came up with a script which we liked.
The story was, as most avid Lovecraft readers know, pitched as an actual life-experience of Harry Houdini. Did this fact change the way you approached the project? Working with a non fictional character surely must be a tad different than working with characters that Lovecraft made up himself? Did it for instance make it harder to find just the right actor to play the legendary magician?
**When Lovecraft first read Houdini's treatment, it was immediately apparent that Houdini was not sticking too closely to any "real life experience" and this led HPL to expand the supernatural elements of the story. Working with Houdini was both a treat and a challenge. Any larger-than-life character can be hard to work with as the very name Houdini conjures up a lot of expectations of what his character should be like.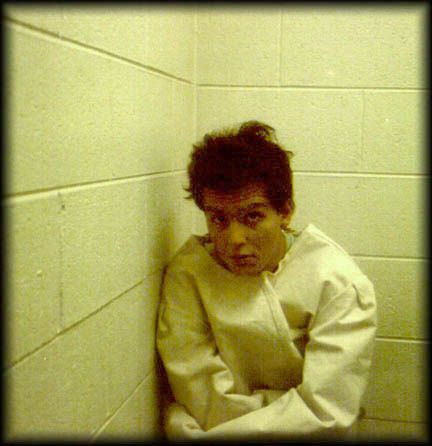 Before I got into Lovecraft, I was a magician and was a huge Houdini fan. If you buy me a couple of beers I could tell you all about it, but I could perhaps share the story of one of my worst tricks. Because I was such a Houdini fan I thought that I'd learn to be an escape artist. I learned to get out of a pair of handcuffs pretty fast, so I thought "Great! I'm ready to go under water now".  So, I filled up the hot tub at our house and plunged in. And even though the water was pleasantly hot, it turned out to be quite another story to get our of handcuffs while under water. So "Seans Hot Tub Escape" didn't exactly go as I had hoped…
But my failed escape artists attempts aside, I was still tickled by the opportunity to play Houdini myself in the Dark Adventure Radio Theatre show. He's the show's hero, but he also has a number of shortcomings in our adaptation – we hope this will make him more fun and more human to modern audiences. We also thought that while most audiences would know the name Houdini, few would have any sense of what a performance by Houdini would have been like. So, we're taking everyone to a show. We did have to play with the story's perspective somewhat, as we have with most of the DART shows. For us the challenge is to break up the first person narrative structure that Lovecraft often uses, in favor of something that allows us to externalize both the exposition and the conflicts. So we added a number of new characters and provided some motivations for some of the story's unexplained actions.
The fact that the story isn't one of Lovecrafts most well-known tales isn't the only thing that sets it apart from the earlier chapters of DART. As some sharp eared listeners might've discovered, this if the first story where you don't mention a valise anywhere.
**It's been sort of a long running joke that the word valice, which after all, is a word that does not show up in everyday conversation, seem to show up a lot in Dark Adventure Radio Theatre. On the creative team there is a guy who thinks the word is really funny, and who tries to sneak it in into every episode we make, but I guess that the "No valise"-team managed to win this particular. But since fans seem to notice it, I'll try and push hard for a valise to be included in the next one.
You've always put so much work and detail into the props you've included with your radio dramas. Tell us a bit about the props and the thoughts behind them. Could perhaps walk us through the process?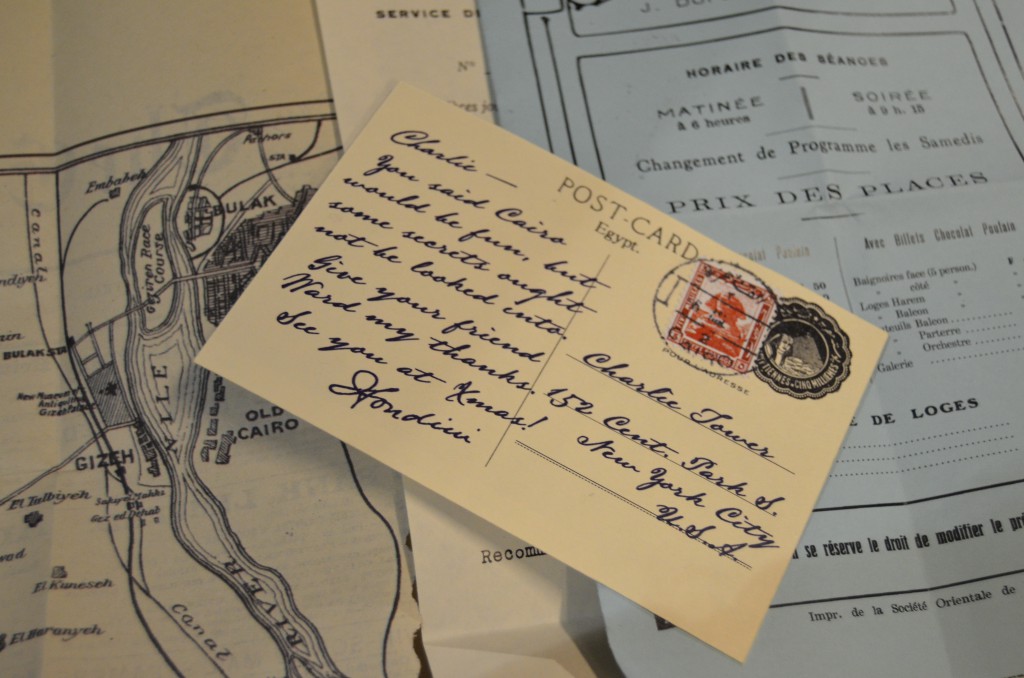 **We take a tremendous amount of pride in conceiving and executing props which aren't just there for their own sake, but which instead expand the listener's experience of the story. For Imprisoned with the Pharaohs we decided on four props, plus a special bonus for customers who pre-ordered the show. All of the DART shows have included a newspaper clipping from the time and place of the show. For this one we recreated the Egyptian Gazette, the real English language newspaper published in Cairo at the time. We sent an HPLHS researcher to the Library of Congress in Washington DC and he was able to make us copies of a few pages. We then mixed authentic newscopy with our own articles and map to create a tremendously realistic recreation of the Gazette.
Prop 2 is a postcard from Houdini to his friend Charlie Tower, who features in this story and in our motion picture of The Whisperer in Darkness. The card itself is an actual vintage Cairo postcard (I think Andrew bought a pack of them on eBay). We reduced the size of the original card so it would fit in a jewel case and made the front image a little sexier by color tinting it in a manner keeping with the style of the time.
Prop 3 is a playbill from the American Cosmograph Theater in Cairo where Houdini performs in the story. We were able to track down a real playbill and discovered it was a single document listing the show's content in English, French, Greek and Arabic. We called upon the HPLHS translator corps and were able to get the lineup of our show translated into those languages. The Andrew had the challenge of typesetting the playbill using three different alphabets, including Arabic which reads from right to left.
Prop 4 is an acquisition recommendation made by Nate Ward to the Cairo Museum about an artifact which features prominently in our version of the story. We thought fans would have fun with some Ancient Egyptian, so we've provided some heiroglyphics with transliterations and translations from the artifact. I studied Ancient Egyptian in college, but we roped in a Lovecraft fan who happens to be a professional Egyptologist at the University of Chicago to make sure everything was correct. Even the Ancient Egyptian spoken in the show is highly accurate.
Not to bore you with too many details, but Prop 5 is for customers who preordered only. It's a telegram from the Shepherd's Hotels inviting Nate Ward to Houdini's show. The telegram envelope also contains a ticket to the show. And yes, it's a painfully accurate recreation of what you would have received had you been staying in that hotel in 1914 and a telegram came for you.
And of course, I can't end and interview without asking what's next for the Historical Society, even though I know you can't really tell our readers too much about it. But any teasers you feel like sharing would be highly appreciated.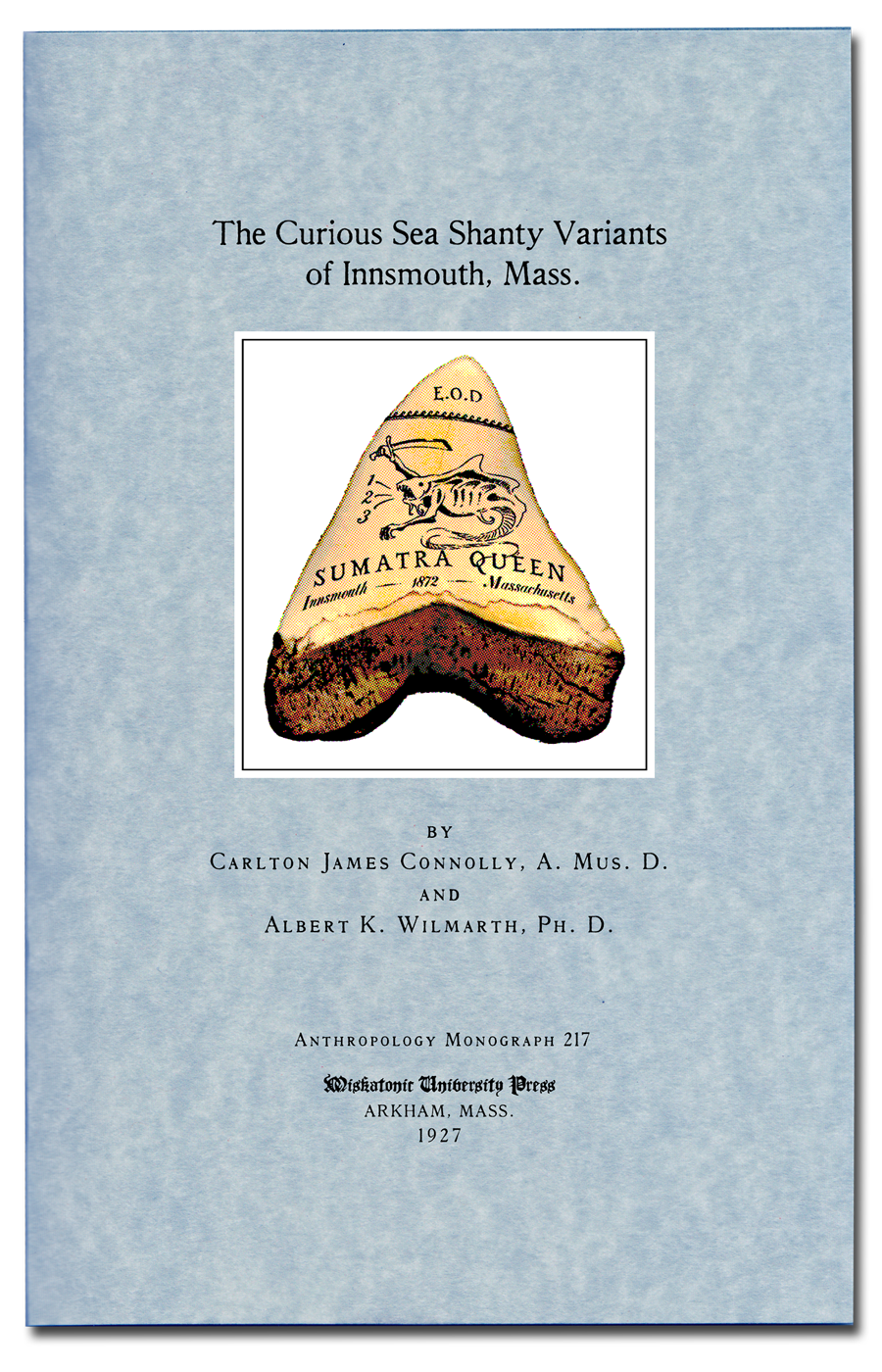 **What's next? Well, we're almost done with our next performance project. We're releasing an academic monograph from Miskatonic University about the Curious Sea Shanties of Innsmouth Mass. A Miskatonic music professor has collected the work songs of the Innsmouth sailors and compares then with more traditional variations. There's a rich bit of Innsmouth history to boot. But along with the book is a CD which features a collection of shanties sung by the Arkham Men's Choir which we think fans will find quite enjoyable. We're putting finishing touches on this and it should be out in late October. While we're on Innsmouth, we also have a new prop item – a piece of scrimshaw etched on a megladon shark tooth by one of Obed Marsh's crew on the Sumatra Queen. It's an extraordinary collectors piece. We have two other big projects in the works, and no, they're not movies, but we can't tell you about them just yet. I can however tell you that there's a big chance that you'll see some more original material from us in the future. While these won't be stories by Lovecraft, they will indeed be Lovecraftian. Perhaps you could think of them as stand-alone sequels to some of Lovecrafts stories.
And with those words we had to release Sean from the crypt we here at Frombeyond.se call our workplace and home, and let him loose in the labyrinthine catacombs that'll hopefully take him back up to the surface world again. But it will hopefully not be long before we call on Mr. Branney again to tell us about his and the HPLHS newest endeavors. With brand new dark adventures looming just beyond the horizon the future sure is bright for Lovecraft-aficionados.  Will the new adventures all perhaps be original, or have The Society finally listened to our requests to adapt Pickmans Model? Only time will tell, and we here at Frombeyond.se will as always be there relay those tales to our readers.
— — —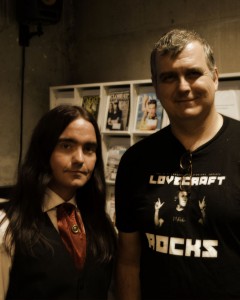 Johan Axell; Redaktör