Den som ihärdigt väntat på att få äga Universals klassiska skräckfilmer i högupplöst format kan snart andas ut. Den andra oktober, i samband med Universals hundraårsjubileum, släpps nämligen Universal Classic Monsters: The Essential Collection. För första gången kan du då avnjuta Dracula, Frankenstein och resten av Universal-gänget digitalt restaurerade på Bluray.
 Totalt rör det sig om nio (om man räknar den spanska versionen av Dracula) klassiska monsterfilmer och skivorna är dessutom späckade extramaterial. Boxen kommer också levereras i en stilig digipackbox med ett 48-sidors booklet. Priset kommer i runda svängar hamna runt 500-lappen.
Information om ljud och bildförhållanden på filmerna i boxen ser inte ut att finnas i nuläget, men  här kommer lite info om vilka filmer det rör sig om samt vilket extramaterial som kommer finnas tillgängligt. Anmärkningsvärt är bland annat att Creature from the Black Lagoon kommer att kunna avnjutas i 3D.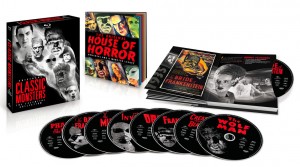 Dracula (1931)
Bonus Features:
• Dracula, the 1931 Spanish version, with Introduction by Lupita Tovar Kohner
• The Road to Dracula
• Lugosi: The Dark Prince
• Dracula: The Restoration – New Featurette Available for The First Time!
• Monster Tracks: Interactive Pop-Up Facts About the Making of Dracula
• Dracula Archives
• Score by Philip Glass performed by the Kronos Quartet
• Feature Commentary by Film Historian David J. Skal
• Feature Commentary by Steve Haberman, Screenwriter of Dracula: Dead and Loving It
• Trailer Gallery
Frankenstein (1931)
Bonus Features:
• The Frankenstein Files: How Hollywood Made a Monster
• Karloff: The Gentle Monster
• Monster Tracks: Interactive Pop-Up Facts About The Making of Frankenstein
• Universal Horror
• Frankenstein Archives
• Boo!: A Short Film
• Feature Commentary with Film Historian Rudy Behlmer
• Feature Commentary with Historian Sir Christopher Frayling
• 100 Years Of Universal: Restoring the Classics
• Trailer Gallery
The Mummy (1932)
Bonus Features:
• Mummy Dearest: A Horror Tradition Unearthed
• He Who Made Monsters: The Life and Art Of Jack Pierce
• Unraveling the Legacy of The Mummy
• The Mummy Archives
• Feature Commentary by Rick Baker, Scott Essman, Steve Haberman, Bob Burns and Brent Armstrong
• Feature Commentary by Film Historian Paul M. Jensen
• 100 Years Of Universal: The Carl Laemmle Era
• Trailer Gallery
The Invisible Man (1933)
Bonus Features:
• Now You See Him: The Invisible Man Revealed
• Production Photographs
• Feature Commentary with Film Historian Rudy Behlmer
• 100 Years of Universal: Unforgettable Characters
Bride of Frankenstein (1935)
Bonus Features:
• She's Alive! Creating The Bride Of Frankenstein
• The Bride Of Frankenstein Archive
• Feature Commentary with Scott MacQueen
• 100 Years of Universal: Restoring the Classics
• Trailer Gallery
The Wolf Man (1941)
Bonus Features:
• Monster by Moonlight
• The Wolf Man: From Ancient Curse to Modern Myth
• Pure in Heart: The Life and Legacy of Lon Chaney, Jr.
• He Who Made Monsters: The Life and Art of Jack Pierce
• The Wolf Man Archives
• Feature Commentary with Film Historian Tom Weaver
• 100 Years of Universal: The Lot
• Trailer Gallery
Phantom of the Opera (1943)
Bonus Features:
• The Opera Ghost: A Phantom Unmasked
• Production Photographs
• Feature Commentary with Film Historian Scott MacQueen
• 100 Years of Universal: The Lot
• Theatrical Trailer
Creature from the Black Lagoon (1954)
Bonus Features:
• Creature From The Black Lagoon in 3D
• Back to The Black Lagoon
• Production Photographs
• Feature Commentary with Film Historian Tom Weaver
• 100 Years of Universal: The Lot
• Trailer Gallery
— — —-
Kristoffer Pettersson